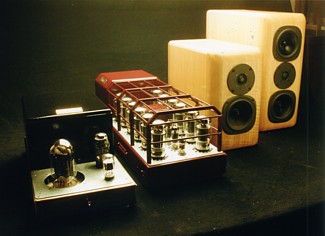 TURNER AUDIO
Hello everyone, from Patrick Turner. I retired from the audio business in 2012.
I no longer manufacture audio amps or speakers or do any repair work.
Last update 22 June 2018.
Size is over 60MB, so download a copy to a CD now.
This website has much information about vacuum tube operation and circuit
analysis and analog test gear. Anyone is free to build their own gear based on
the information about many amplifiers I built between 1996 and 2012.

I have kept my interest in my website to guide others who are good craftsmen
and can understand the mental concepts simple and mathematics needed to
make good analog electronics.

My emaile Add Ress is in the .gif image,



Pardon my bada spellink to stop spam botz.
The .gif image stopped 98% of the 100+ daily spams I used to get in 2012.

PATRICK'S OTHER CONCERNS About health matters. Polite comments are welcomed.
VELOSOPHY I've cycled 130,000 km since 2006, and have a few tips for the older roadie.
BOTH KNEE JOINTS REPLACED. my story about having both knee joints replaced.

PUSH PULL POWER AMPS 1996 AND 2012
300W MONO BLOC Class AB1, basic details.
300W amp input/driver and output stages.
300W amp power supply.
300W amp active protection.
300W amp dynamic bias stabilization.
300W amp power vs load graphs.
300W amp images.
100W mono bloc, 2004 3 x 6SN7, 6 x EL34, UL.
100W mono bloc, 2014 More on 100W UL amps.
8585W integrated 2 channels, each 4 x 6550, CFB.
Mr Zel's 100-100W integrated 2 channels, each 4 x EL34, CFB.
80W power amp 4 x EL34 like 8585.
5050W integrated 2 x KT88/KT90 per channel, UL.
SE 845 55W Class A mono bloc 2 x 845 parallel.
SE35W mono bloc 4 x parallel SE EL34, CFB.
SEUL22W mono bloc 2005 1 x SE13E1, UL.
SE32W mono bloc, 2008 1 x 13E1, UL + CFB.
SE32W mono bloc, 2012 1x 13E1, UL + CFB.
SE31W SE and PP mono amps 1 and 2 x 13E1, CFB.
4+4W SET, 2A3 2 channels each 1 x 2A3.
2323 integrated JBS triode PP 2 x 6CM5 ea channel.
OTL amplifiers pros and cons for OTL amps.
FUTURE AMPLIFIERS amp chassis, details of metalwork chassis available.

SOLID STATE AMPS
SOLID STATE AMPS 1 2 x 300W amps, class AB.
SOLID STATE AMPS 2 One channel 300W, class AB.
SOLID STATE AMPS 3 1959 JBL amplifier re-build.
SOLID STATE AMPS 4 2 x 50W monoblocs, class A.
SOLID STATE AMPS 5 Class A mosfets, tube input.

PRE-AMPS, 1995 TO 2006
INTEGRATED PRE-AMP 2006 MC+MM phono, line, tone, 2 2SK369, 2 6EJ7, 4 x 12AT7, 4 x 12AU7
ROCKET PHONO PRE-AMP 2005 2 x 2SK369, 2 x 6DJ8, 2 x 12AT7, 2 x 6CG7
NEMO LINE LEVEL PRE-AMP 2 x 6CG7, solid state PSU
LINE LEVEL PRE-AMP FROM 2003 2 x 12AU7 2 x 12AU7.

LOUDSPEAKERS
LOUDSPEAKERS 1 Hand made loudspeakers 2000, SEAS drivers
LOUDSPEAKERS 2 Designs for diyers.
LOUDSPEAKERS 3 Test methods for loudspeaker response & impedance.
LOUDSPEAKERS 4 Loudspeaker crossover designs.
LOUDSPEAKERS 5 Hand made speakers, dual concentric Tannoy drivers.

RE-ENGINEERED AMPS
CARY 2A3i AMPLIFIER 2 x 10W with 2 x 3A3.
EAR509 MONO BLOC Made 1979, 85W.
MING-DA 80W MONOBLOC Made 1996, 85W triode PP.
MANLEY LABS MONO BLOC SNAPPER 85W with 4 x EL34.
TRANQUILITY 3030 Made 2003, 2 x 30W.
JADIS SE300B MONO BLOC Made 1994, 2 x parallel 300B.
QUAD 22 PRE-AMPS Made 1960, preamp.
QUAD II POWER AMP Made 1960, several versions.
QUAD II FORTY AMP Made 1995.
LEAK AMPS Made 1955.
DYNACO ST70 Made 1960.
DYNACO MK-IV MONO BLOCS Made 1965, now with KT88.
RCA 30W MONO AMP Made 1960, now with KT88.

FOR SALE
One pair Dynaco MkIV 45W mono blocs I will only consider good offers.
AMP CHASSIS METALWORK 12 chassis for 4 types of monobloc amps.
OUTPUT TRANSFORMERS FOR SALE 58 types of OPTs for diyers and others.
OUTPUT TRANSFORMER INFORMATION About OPT for sale, use, choice.
OUTPUT TRANSFORMER ANALYSIS Properties of OPT for sale.
POWER TRANSFORMERS FOR SALE 103 types power trans for diyers or others.
POWER TRANSFORMER INFORMATION Properties of PT, choice, conditions of sale.
CHOKES FOR SALE A page with some new and old chokes for sale.
MISCELLANEOUS FOR SALE A small number Junk Items.

SOME TUBES FOR SALE
I have small stocks of Russian and NOS or used tubes tubes for old radios and amps.

EDUCATIONAL AND DIY
GUITAR AMPS General guide to guitar amp design, 3 schematics.
AUDIO IDEAS General ideas for good audio at home.
BASIC TUBE OPERATION 1 Basic tube operation, diodes, triodes, pentodes.
BASIC TUBE OPERATION 2 Lots more on basic tube properties.
BASIC TUBE OPERATION 3 Even more and about Ra, µ, gm.
BASIC TUBE OPERATION 4 Lots about 6550 tests
BASIC TUBE OPERATION 4A About Ra, gm, µ, and tube models.
BASIC TUBE OPERATION 5 About Differential triode input and drivers.

VARIOUS WAYS TO ARRANGE OUTPUT TUBES.
SE AMP OUTPUT STAGE CONFIGURATIONS
PP OUTPUT STAGE CONFIGURATIONS

IDEAL ANODE LOADING.
LOAD MATCHING 1, SE TRIODES
LOAD MATCHING 2, SE BEAM TETRODES+PENTODES
LOAD MATCHING 3, PP TRIODES
LOAD MATCHING 4A, PP BEAM TETRODES+PENTODES
LOAD MATCHING 4B, PP BEAM TETRODES+PENTODES
LOAD MATCHING 4C, PP BEAM TETRODES+PENTODES
LOAD MATCHING 5, PP BEAM TETRODES

PP OPT CALCULATIONS.
PP OPT Calcs 1
PP OPT Calcs 2
PP OPT Calcs 3
PP OPT Calcs 3A
PP OPT Calcs 4
PP OPT Calcs 5

SE OPT CALCULATIONS.
SE OPT Calcs 1
SE OPT Calcs 2
SE OPT Calcs 3
SE OPT for 1 x 13E1

WINDING OPT, PT and chokes

OTL AMPS, PROS AND CONS.

SPEAKER MATCHING TRANSFORMERS

TUBE AMP POWER SUPPLIES

POWER TRANSFORMERS AND CHOKES
Chokes 1 Basic chokes for CLC PSU filters.
Chokes 2 Chokes for LC PSU filters.
Chokes 3 Chokes for DC anode feed.

POWER SUPPLY FOR TESTING TUBES

RADIO RE-ENGINEERING About re-engineered AM radios.
TURNER AM-FM TUNER
KITCHEN AM RADIO Kitchen AM tube radio with added features.

AM GENERATION WITH SOLID STATE
RF GENERATION WITH TUBES AND AM AND FM

THD MEASUREMENT
AMPLIFIER FREQUENCY RESPONSE TESTING

VAC VOLTMETER-1
VAC VOLTMETER-2

WIEN BRIDGE OSCILLATOR
WIEN BRIDGE OSCILLATOR WITH TUBES

MISCELLANEOUS SCHEMATICS 1
MISCELLANEOUS SCHEMATICS 2

REPAIRS
I retired in 2012. I cannot accept any new customers, or repair new gear which old customers may have purchased.
I offer limited repair services for gear I have made new or re-engineered for old customers before August 2012.