NZ$ 2995 plus shipping (with Russian Tubes)
NZ$ 3495 plus shipping (with Western Tubes)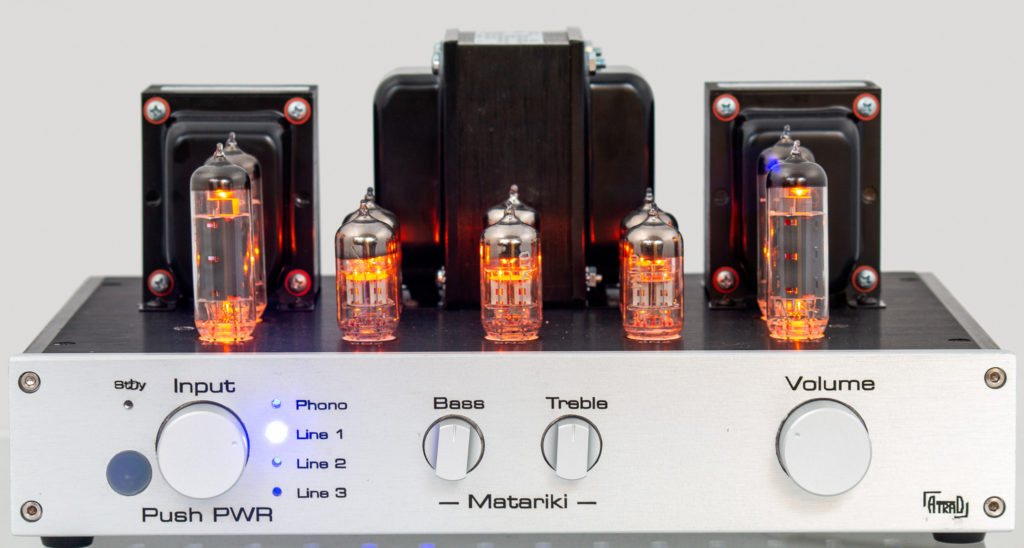 The Octantis is our Signature Integrated amplifier. A small form factor unit which is the product of careful design and prototyping, it offers all of the features expected from an integrated amplifier :
Fully tube signal path
3 line level and one Phono (MM)-level input
±12dB tone controls (bass and treble)
Remote-controlled volume, standby, and input selector
Clean 15 watts/ch Class A/AB power output
Selection of speaker terminal impedance levels for precise matching to speakers
W: 340mm D: 340mm H: 175mm Weight: 12kg
The Octantis is built on a small chassis – just 340mm wide. Since each is built to order, customers can define aesthetic requirements such as colour, style of knobs, font, and whether to leave the transformers open or to cover them.
The amplifier can be specified for compatibility with Western or Russian Military NOS tubes at time of order.
For those listeners who may be interested in Tube Rolling, we recommend configuring for Western tubes, as there is a larger variety of new stock and New Old Stock (NOS) from various manufacturers to experiment with.
Warranty
We offer a 24 month return-to-base warranty on the unit, 90 days on the tubes.
Customisation
At time of order we will discuss the cosmetics with you – as all units are made-to-order, you can choose style of knobs, front panel colour, etc.
We also offer the option to enclose the transformers in black metal boxes – this option adds $200
Purchasing
We build all products to order. Subject to availabaility of parts we offer a max. 6-week turnaround. 50% deposit with order, balance on delivery.
About the name
Octantis is the name of the most southern star in the night sky, also known as the Southern Pole Star. Our amplifier has been renamed from its original name – and the name that appears in the photos here.
What people are saying
"Probably the most obvious benefit is in the bass response. I'm hearing notes that haven't been heard on previous systems – Technics, Sony, Sansui (with the same speakers)." — A. S.


"I've been listening to this album [Santana – Supernatural] for years, and I keep hearing little details in it that I've never noticed before." — T. H.

"The performance seems so present, with attack and punch, as well as smooth and rich tone. Particularly clear was the extended bass control with a treble that was pleasingly sweet." — Richard Varey