NZ$ 1995 plus shipping (with Russian Tubes)
NZ$ 2295 plus shipping (with Western Tubes)
The Kingsway preamplifier is intended for use with our "Lyra" power amplifier, or any other power amplifier of your choice.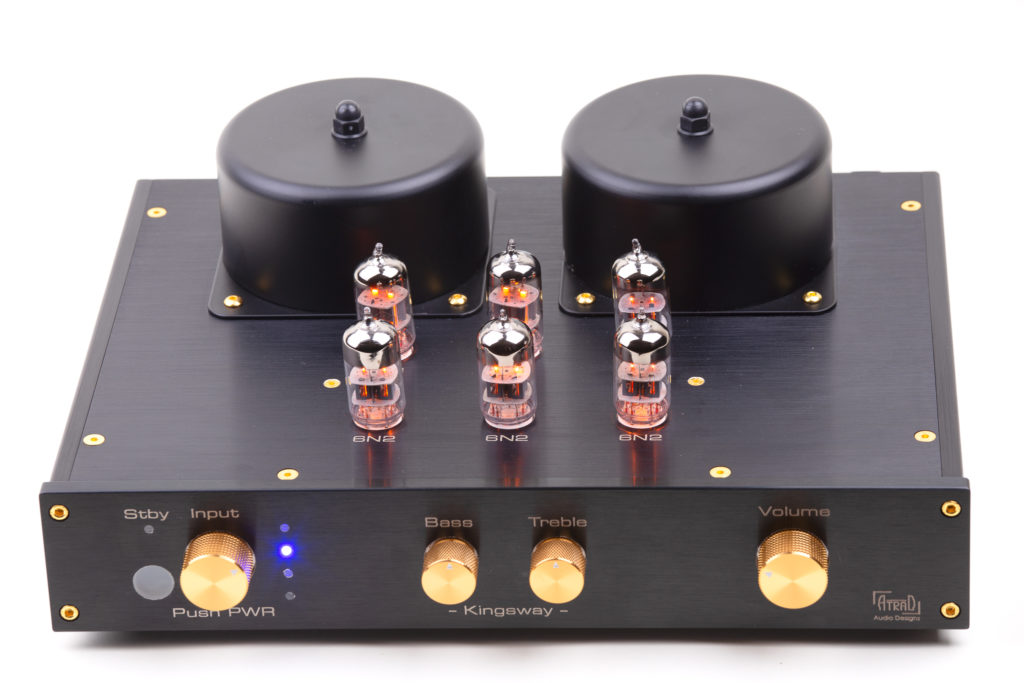 Features
3 x Line level inputs, 1 X Phono (MM) input
Tone controls (Bass and Treble)
1 X Line level ouptut for connection to power amplifier
Remote control (Power, input selector, motor volume control)
Available configured for Russian (6N1 / 6N2) or Western (12AU7 / 12AX7) tubes
Available in different cosmetic packages: black or silver front panel, black or silver knobs, or gold knobs with gold trim
W: 340mm D: 340mm H: 175mm
The Kingsway preamp borrows critical elements from our Octantis Integrated amplifier and thus has a very similar sonic signature. We removed the output stage, and reworked the Phase divider and driver stages to be a line-level low-impedance fully buffered output.
The Kingsway can be supplied with Russian or Western tubes – for those interested in Tube Rolling or in possession of some legacy/NOS tubes, the Western option can be specified.
Warranty
We offer a 24 month return-to-base warranty on the unit, 90 days on the tubes.
Customisation
At time of order we will discuss the cosmetics with you – as all units are made-to-order, you can choose style of knobs, front panel colour, knobs etc.
Purchasing
We build all products to order. Subject to availabaility of parts we offer a max. 6-week turnaround. 50% deposit with order, balance on delivery.
About the Name
The Kingsway preamp is named after Kingsway Hall in London, which was regarded as having among the finest acoustics of any recording venue, and which was the principal recording venue for Decca Records until 1984. Sadly now demolished, it lives on in the excellent acoustical quality it gave to the many performances recorded there. Our preamp honours the venue and by extension those musicians and engineers involved with that rich legacy of recordings.