Welcome to our products page
Our products are generally all one-off designs. As such, the products page is more of a menu than an inventory list of pre-built off-the-shelf items you can choose.
Examples: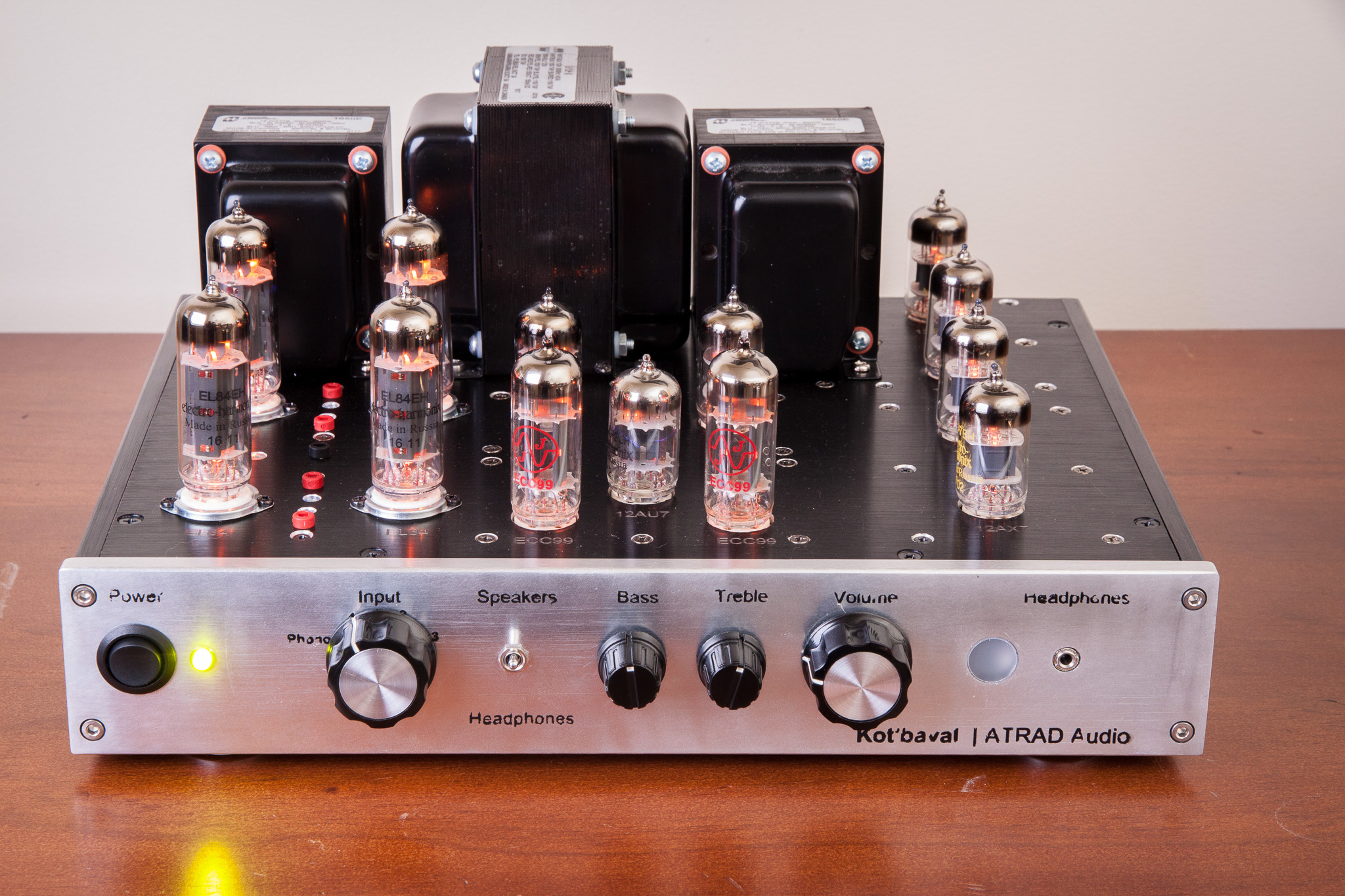 This is an amplifier built for a customer. You can see it on the projects page. It has 15 watts per channel power, a headphone stage, tone controls, remote control volume, and a phono stage. It's in a 36cm chassis and weighs 12kg.
The cost of this unit was $2350 to the customer.
Another: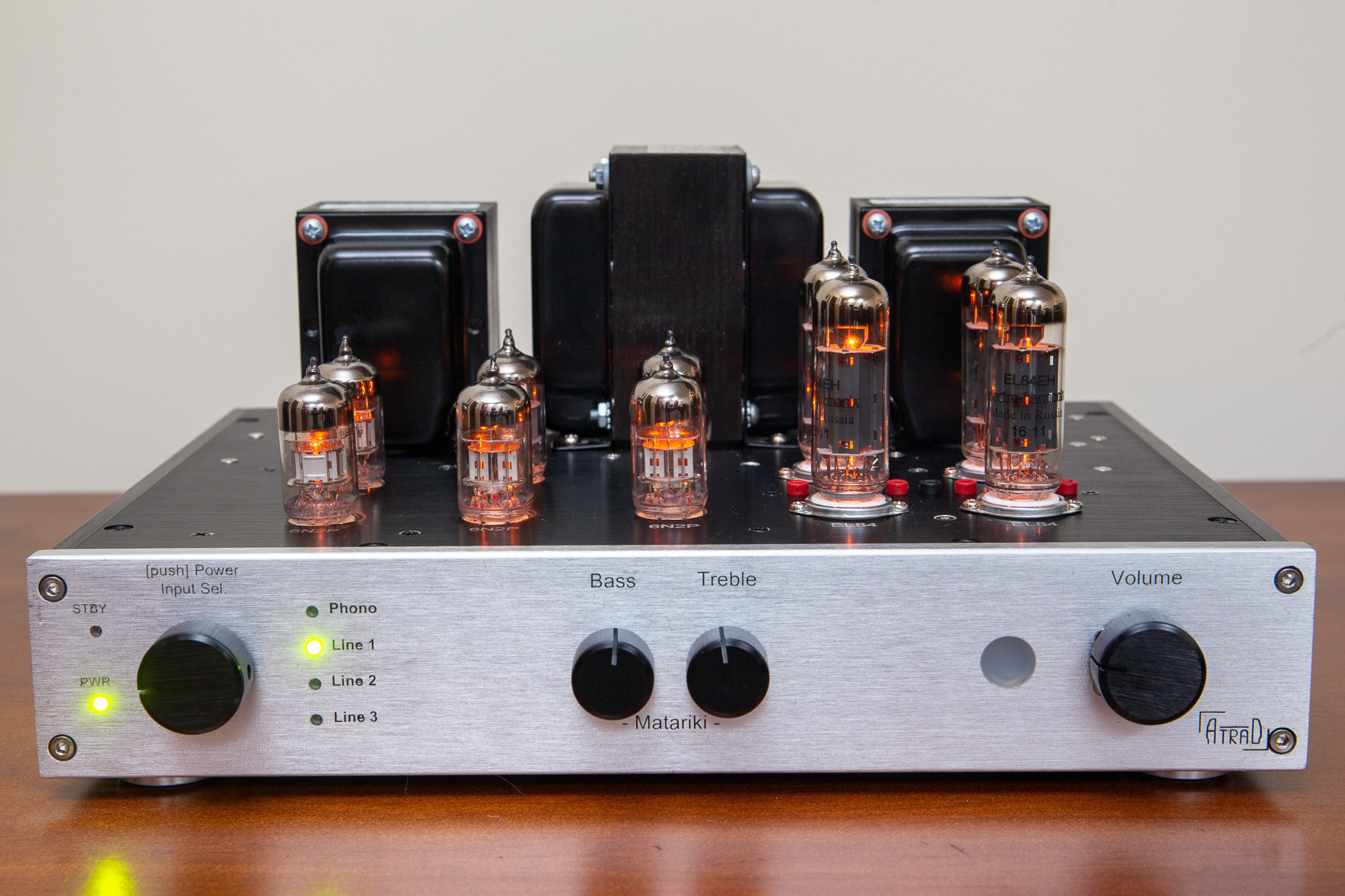 This is a demo unit with remote control, tone controls, and phono (turntable) input. This is the unit we use for demonstrating valve amplifiers to customers, you can commission a build of this exact model for $2200.
Our Base-price for an amplifier is $2000. For this you will get a 15 watt EL84-type amplifier with four line-level inputs and remote-control volume. From there, you can add extras
We have a standard set of options you can choose from. Starting at the end:
Output options
EL84-style, 15 watts per channel. (Doesn't sound like much, but remember that valve amps drive the speakers differently to solid state amps. This option is by far the most cost effective and with a good pair of speakers rated at 90dB efficiency or above, no-one will ever know you're using a 15 watt amp). This is our Recommended Best Value.
Price: Included in base price
EL84-style but with twice the tube count. (This will double the power to 30 watts. Unless you are hard of hearing, this will be more than enough for anyone)
Add $500 to Base Price
EL34 style. (Larger output valves, around 45 watts per channel. Much heavier and higher cost though)
Add $1250 to Base Price
KT88 style. (The "Big Daddy" of output valves, these are the undisputed king. You can get nearly 100 watts from these but the amplifier will weigh nearly 30kg and be very expensive)
Add $1500 to Base Price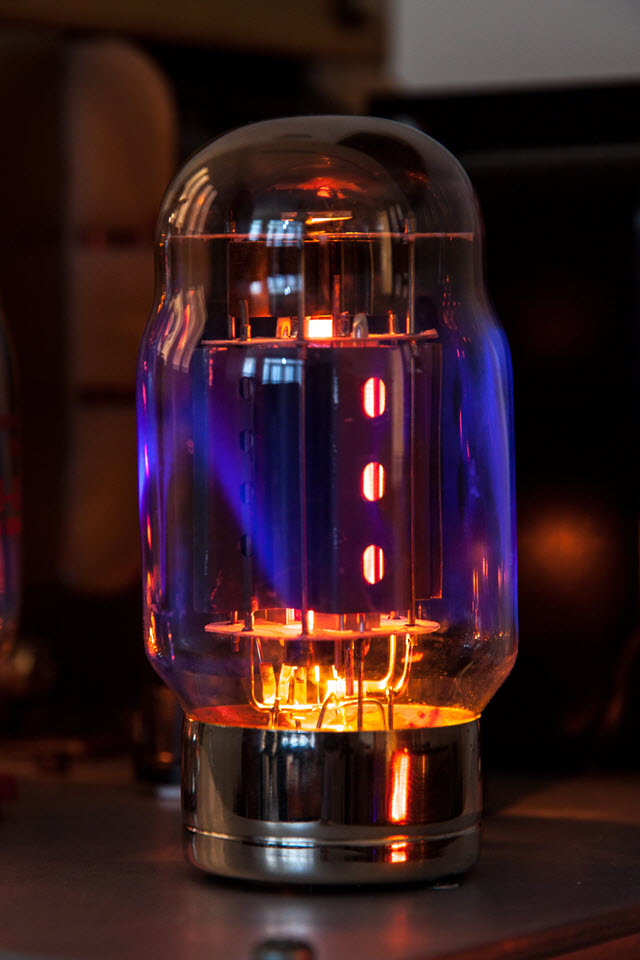 KT88 Output valve
Other items you can choose:
Headphone output (Add $250 to base price)
Phono input (to allow connection of a turntable) (Add $100 to base price)
Tone Controls – bass and treble (Add $100 to base price)
Multiple speaker outputs (eg. "Speakers A/B") (Add $100 to base price)
Subwoofer output (Add $50 to base price)
Output loop (Add $30 to base price)
Pass-through power port (for switching on other accessories with the amplifier) (Add $30 to base price)
USB power output (four source accessories such as Chromecast Audio, etc) (Add $50 to base price)
Custom case or aesthetics (Negotiated design and fabrication process)
Other customisations or additions by negotiation and agreement
All of our amplifiers are provided with full operating instructions and technical information including circuit schematics and PCB layouts. Valve amplifiers are potentially heirloom-category items, so our amplifiers are designed with serviceability in mind.
Notes on pricing:
This is not a registered business, as such prices do not attract GST
Shipping is not included. If you are unable to collect from the electronics lab in Porirua then shipping is at your cost
Our prices reflect the cost of buying source components and materials at retail prices in small lot sizes suitable to individuals and hobbyists.
Pricing is subject to final confirmation at time of project commencement. Nothing will be done without the customer's agreement.
Prices are in New Zealand Dollars ($NZD). If you're visiting this site as a curiosity from outside NZ, then $1 NZ = $0.65 US or £0.50 or €0.56 (Oct 2018)